When we first built Braintree, we designed it to help alleviate the pain points merchants felt around the clunky credit-card processing experience they were forced to offer their customers because of the technology that existed at the time. Years later, our goal of helping merchants remains unchanged: We continue to be passionate about simplifying the payments process so that they can focus on running and growing their businesses.
This has been -- and will always be -- our top priority.
Can't stop, won't stop

This year marks the fifth anniversary of our acquisition by PayPal. We've talked about our tremendous growth in the past, and because of our customers, we are pleased to share that we've continued on that trajectory: During Investor Day this year, we announced that in 2017 Braintree's revenue grew 54% year-over-year. This momentum has allowed us to touch more than $500 billion1 in authorized payment volume since we joined PayPal and ~6 billion transactions2 just this year alone. To put this growth and half a trillion dollars in authorized payment volume into perspective, it was only three years ago that we shared we had crossed $50 billion in payment volume that year -- so this is no small feat!

We're also excited to share some of the new merchants that we've begun working with around the world in 2018: Avant Insurance, KFC Australia, Experience Oz, JB HiFi, Krispy Kreme, Village Roadshow, MSIG Insurance, Yoodo, Deutsche Telekom, Deutsche Post, Autodoc, BricoPrive, Private Sport Shop, Alltricks, Live Nation/ Ticketmaster, Sprout Social, Tock, Shriner's Hospitals for Children, The Salvation Army, Acer Computers, Freshly, Course Hero, Bite Squad, Perfect Keto, and Tripadvisor Experiences.
Delivering greater value
We've also delivered greater value to our merchants by offering commerce experiences that nobody else can. Together with PayPal, Braintree is the only payments company that enables businesses to accept PayPal and Venmo as payment methods. As a result, we've been able to bring even more consumers to merchants -- demonstrated through the 600 million+ PayPal and Venmo3 transactions we've seen pass through our platform. This year, we've also enabled merchants such as Uber, Grubhub, Tie Bar, and Cargo to accept Venmo for the very first time. We also helped in creating new commerce opportunities and revenue streams for merchants through Braintree Extend. These new and unique partnerships are truly a testament to our years of experience and ability to operate at scale, thanks to PayPal.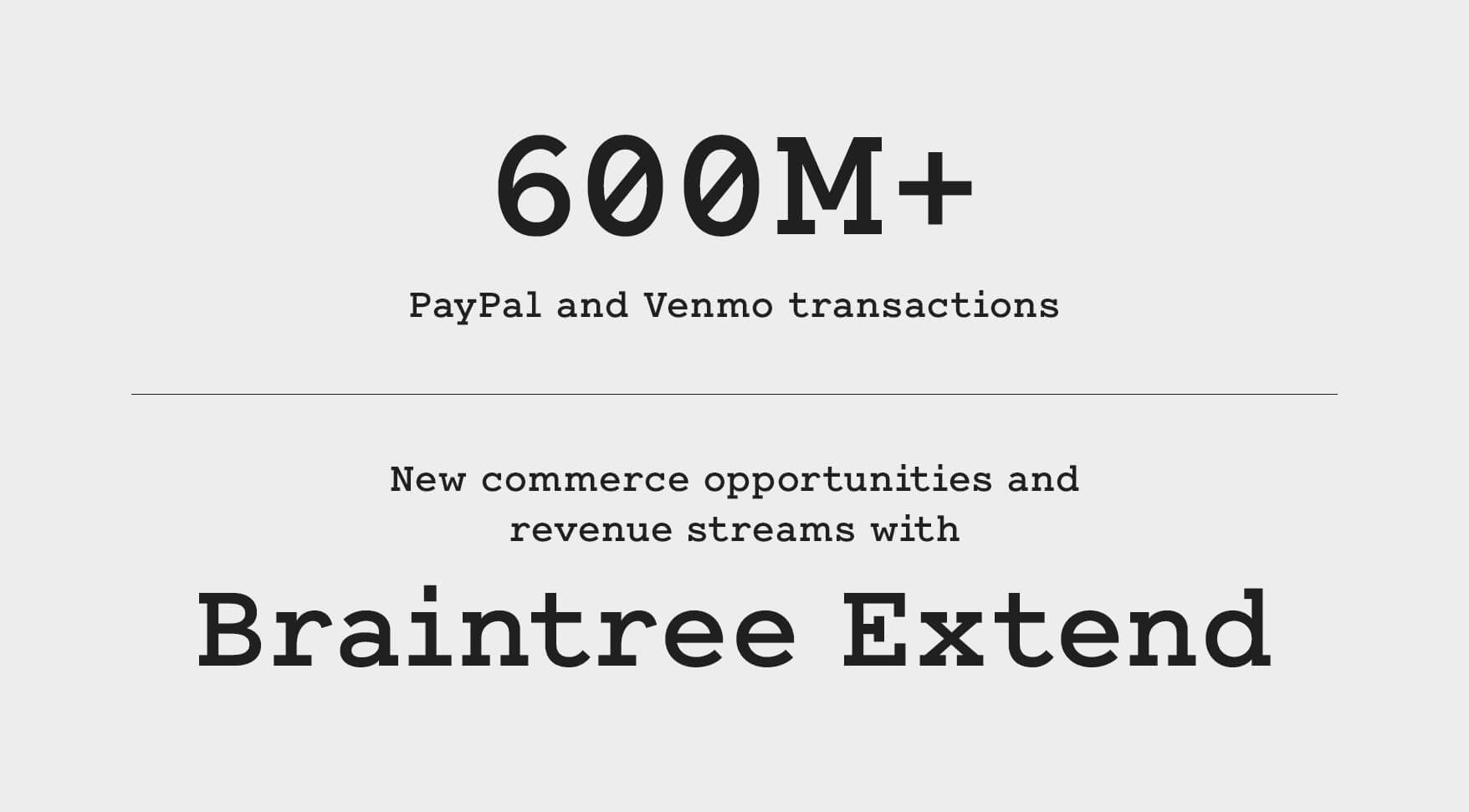 A bright future... together
Today, we not only process payments for some of the largest and most innovative companies around the world, but we take a holistic approach to help these businesses thrive in the global economy.
One of the foundations of a successful online business is accepting the payment methods that buyers want to use. So that's what we do. Through one simple, seamless integration, we offer credit and debit cards, Apple Pay, Google Pay, UnionPay, and more. And we are uniquely able to offer PayPal, PayPal Credit, and Venmo to merchants around the world. We know that bringing 234 million active PayPal consumer accounts worldwide to 20+ million merchants -- in addition to all the historical insight and knowledge we have about payments -- is a huge value driver for our merchants.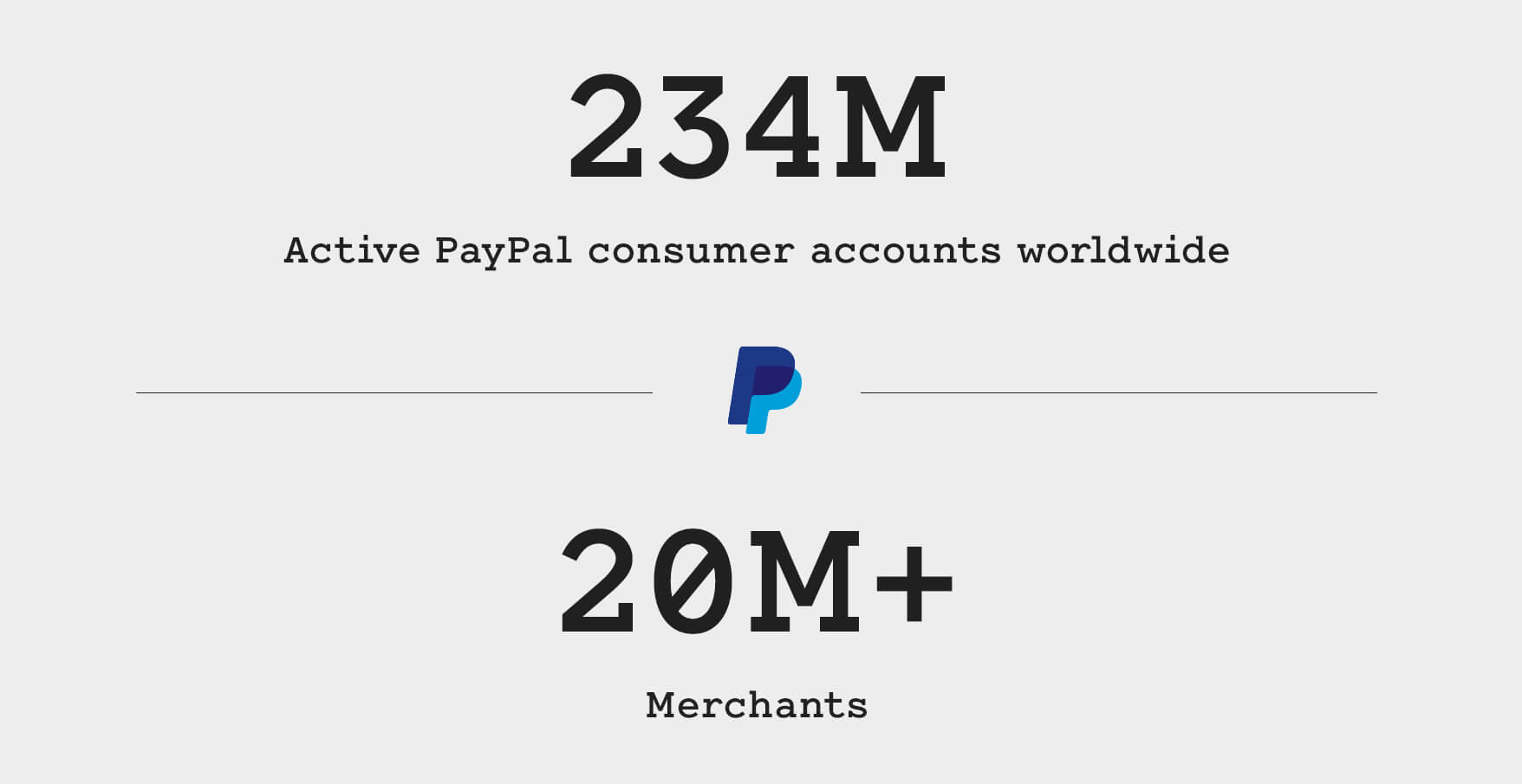 But our offering goes far beyond payments processing. It includes a full suite of features that can help merchants streamline integration, fight fraudulent transactions, keep payment data secure, and take the pain out of compliance; tools that allow merchants and their partners make meaningful connections by securely sharing payment information to help create exciting new commerce experiences; an enhanced cloud offering that has increased checkout speeds by up to 2.5 seconds in Australia and will be expanding globally this year; and our recent acquisition of Hyperwallet, which will add a great breadth of relevant payout methods in 200 markets globally, and allows us to provide greater choice and flexibility for merchants.
And, of course, everything we do is backed by world-class white-glove support that's focused on the success of our merchants.
And we're not done yet
With this growth comes tremendous opportunity. While we can't share too many specifics yet, a few things that we're working on in the near term include: expanding our cloud offering even further; helping more businesses take advantage of the Venmo opportunity at checkout; and offering a variety of local payment methods. But most importantly, we will continue to focus on democratizing access to the largest two-sided network in payments and putting this power into the hands of our merchants -- something only we can uniquely do as being part of the PayPal network.
Braintree has become the platform for large and fast-growing enterprises that are building the most innovative commerce experiences globally, and we're incredibly proud of it. But we know that everything we've accomplished -- and everything on the horizon -- has been made possible by the merchants we serve. We will continue to put them at the center of everything we do, and we thank every single one of them for joining us on this journey and helping us move the future of commerce forward.